The Menu
We Cook with the Heart

Eggs Benedict£4.50
Fried, Poached or Scrambled
Pancakes Special£4.95
Homemade Pancakes & Bacon£4.75
French Toast & Bacon GF £4.75
Toast & Eggs GF £3.75
Omelette GF £4.95
Served with salad or toast
Bacon & Cream Cheese Bagel£3.95
Oats£2.90
Porridge with fruit
The Doc Fry£4.95
Bacon, sausage, egg, potato & soda bread, vegetable roll
The BIG Breakfast£7.95
2 bacon, 2 sausage, 2 egg, potato, soda, veg roll, mushroom, tomato & beans
Feel Good Fry GF £4.75
Grilled bacon, tomato, mushrooms, poached egg, toast & beans
Extra Portions£0.90
tomato, mushrooms, beans & pancake

Soup of the Day GF/V4.25
served with home made wheaten
Doc Stew GF4.75
made with Watt's finest mince
Build your own4.50
Sandwich, wrap, panini from our Deli Bar
Salad Bowl GF/V5.95
Choose your 3 salads & meat from our Deli Bar
Baked Potato GF/V5.95
Choose your filling & 2 salads
Chicken & Bacon Caesar Salad6.95
Home made Lasagne6.95
Served with 2 salads - Add chips £2
Pie/ Quiche of the Day6.85
Served with 3 salads
Chicken Goujons7.25
Served with chips & salad garnish

Chicken Goujons7.25
Served with chips & salad garnish
Burger Bar GF/V8.50
Beef - Chargrilled Chicken –Veggie
Served in a brioche, with onion rings & chips
House Curry V7.95
Chicken or Veg, served with basmati rice
Change to half 'n' half for £1
Salmon Fillet GF8.95
on a bed of stir fry veg with side
Chargrilled Chicken GF8.95
on a bed of stir fry veg with side
Home made Lasagne8.95
served with salad & chips

Skin on skinny fries£2.95
House Sweet Potato fries£3.50
Gourmet Chunky fries£2.95

Feel Good Fry£4.75
Gluten, Egg, Nut & Dairy Free. Bacon, poached egg, mushroom, tomato, beans & Toast
Omelette£4.75
Gluten, Nut Free. Dairy free on request. Choice of filling served with GF toast or salad
French Toast£3.75
Gluten, Dairy, Nut Free. Made with GF bread, served with bacon & maple.

Beef Stew£3.75
Gluten, Dairy Free. Served with wheaten or GF bread
Soup of the Day£3.25
Check todays specials
Salad Bowl£4.25
Build your own from our deli
Baked Potato£5.50
Build your own, served with salad
Beef Burger£7.50
Without the bap, salad & side
Oven Baked Salmon£7.95
Chargrilled Chicken£6.85

sizeregular large
Flat White£2.50
Cappuccino£2.50 £2.90
Latte£2.50 £2.90
Mocha£2.60 £2.95
Americano£2.10 £2.50
Espresso£1.90 £2.20
Babyccino£1.50
Decaff Black£2.20 £2.60
Decaff Milky£2.60 £2.95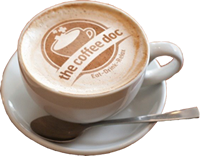 Plain£2.50 £2.80
Add the Works£0.50
cream, mallows, flake

Steamed milk£1.50 £2.00
with a flovour of your choice

House Tea£1.80
Loose Leaf by REDBOX£1.95
Camomile-Green-Peppermint-Red Berry-Earl Grey-English Breakfast-Rooibos
Chai Latte£2.80 £3.10

Iced caramel latte£2.60
Iced cafe mocha£2.60
Iced cappuccino£2.60

CREAM£0.35
SYRUP£0.35
EXTRA SHOT£0.45

Cheese Pizza£3.50
Sausages & Beans£3.50
Chicken Chunks£3.50
Sandwich£3.50
All above served with skinny fries.
Pancakes & Bacon£3.50
Beef Stew & Wheaten£3.50
All Kids meals served with juice.